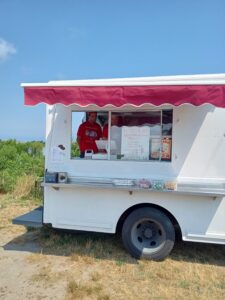 View Menu & Order Online at www.BlockIslandPizzaTruck.com
From Monday through Saturday, our Food Truck is on Corn Neck Road, near the entrance of Scotch Beach and Mosquito Beach.  We serve artisan, hearth-style pizza, salads, desserts and snacks.
Our food truck is available for parties.  Enjoy artisan pizza, beer and wine for your casual event at The Sullivan House, or at your property.
Contact Us for more information.